5 TO 10 METERS DISTANCE FROM THE HOMES

| | |
| --- | --- |
| Young Ecologists Logo | Source: Young Ecologists |
BURMA SPICE WELLNESS CURRIES AND TEAS
Responsible Author: Ruby BIRD & Yasmina BEDDOU (Journalists/Directors) | PARIS - MIAMI, 08/24/2019, 07:12 Time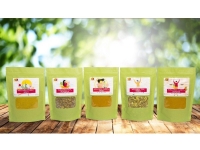 USPA NEWS -
Burma Spice announced on August 20, the immediate availability of Burma Spice Wellness curries and teas. This new product line embraces the philosophy that 100% of what our bodies need for good health can, and should, come from the natural foods we eat.
REDUCE DISCRIMINATION & VIOLENCE
Responsible Author: Jedi Foster P/O Rahma Sophia Rachdi | Paris, Washington DC, 08/21/2019, 01:34 Time
USPA NEWS -
The French President of the Republic, Emmanuel Macron has decided to make it a priority of the French presidency of the G7.In 41 countries, the man is recognized in the law as the sole head of the family. The law requires the wife's obedience to her husband; 35% of women are victims in their lives of physical or sexual violence; women are overrepresented in vulnerable jobs and are paid overall 23% less than men; only 45% of countries achieved parity in secondary education.
| | |
| --- | --- |
| | RAHMA-SOPHIA RACHDI |
| | Daren Frankish |
| | Ruby BIRD |
| | Yasmina BEDDOU |
| | Roberto Magni |