One-stop-shop for bridges and other comp
Responsible Author: Wopag | London, 09/15/2019, 18:48 Time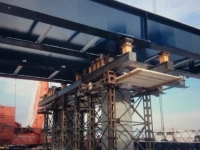 Wopag -
Bridges have been the core product line since founding Firesta in 1989. Firesta always invested into senior inhouse project team in order to ensure first in class technical documentation and perfectly prepared projects. It has paid back many times when challenging structures had to be delivered under tight deadlines. The inhouse project team holds extensive expertise on auxiliary structures and supporting rings. Firesta gradually invested into new technologies and production capacities and soon became one of the CEE leaders in road and railway construction industry. Current production and engineering capacities allow Firesta to deliver complex assignment maintaing all the core high value added activities inhouse. Firesta is aiming to continue differentiate from the rest of the market by being a one-stop-shop for any investor requiring on time delivery of complex project. This position is only possible thanks to experienced inhouse project team that is able to support any stage of production by delivering precise project design documentation.
Operates as a construction company
Responsible Author: wopag | London, 08/24/2019, 09:46 Time
wopag -
Transport construction Brno
The field of Transport Structures offers a wide range of services, professional approach and long-term experience. It deals with construction and reconstruction services.
The founder of this company is Mr. Vlastimil Chladek, who was born in Letohrad in 1959. He graduated from the University of Civil Engineering in Brno, he is the owner of this successful Brno construction company, passionate chess player and cyclist, bowling player and writer. He is also co-author of the chess book Gens una sumus.
Company Dopravni stavby Brno, s.r.o. operates as a construction company, which is able to provide manufacturing and technical activities in the field of construction, whose main activity is focused on the implementation of transport and engineering structures and their reconstruction.
The main scope of activities of the company is in the field of roads and rail constructions. More detailed activity specifications can be broken down as follows:
Railway buildings:
Road construction:
Construction and repair of bridges and concrete structures:
| | |
| --- | --- |
| | RAHMA-SOPHIA RACHDI |
| | Daren Frankish |
| | Ruby BIRD |
| | Yasmina BEDDOU |
| | Roberto Magni |